Sometimes you need to apply a special licensing key that serves multiple purposes. These keys can be a serial key (issued after purchasing a product) or a multipurpose key, also called "activation key". Keys are provided mostly via E-Mail from VIOSO directly, but can also come from a partner, system integrator, or other vendor.
An activation key is issued for several reasons, e.g.:
Extending a trial period.
Software activation without internet access.
Modifying an existing license.
Unlocking a locked license.
Accessing the License Viewer
To make use of these keys, you need to access the license manager. The license viewer is part of all VIOSO applications and can be accessed:
VIOSO Anyblend: Click "License Info" (top right on the application window).
VIOSO Player: Menu "Help" – "Info about this program" – Click button "License".
VIOSO Core: Menu "Help" – "Info about this program" – Click button "License".

License Manager Anyblend

License Manager Core

License Manager Player
In case of an error, you can access the license viewer clicking the "?" on the bottom of license error dialogs: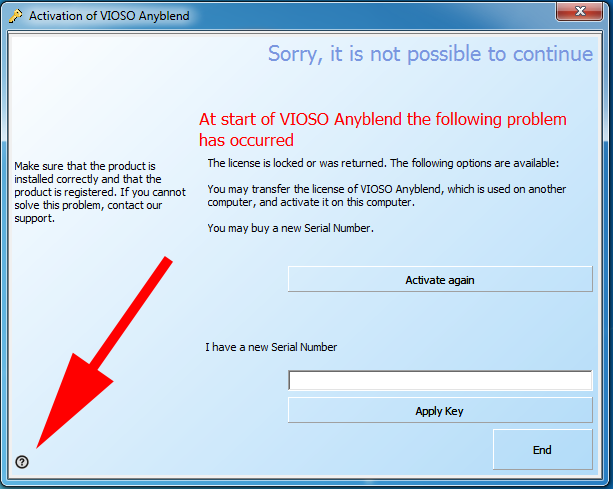 Entering an activation key
The license viewer window opens: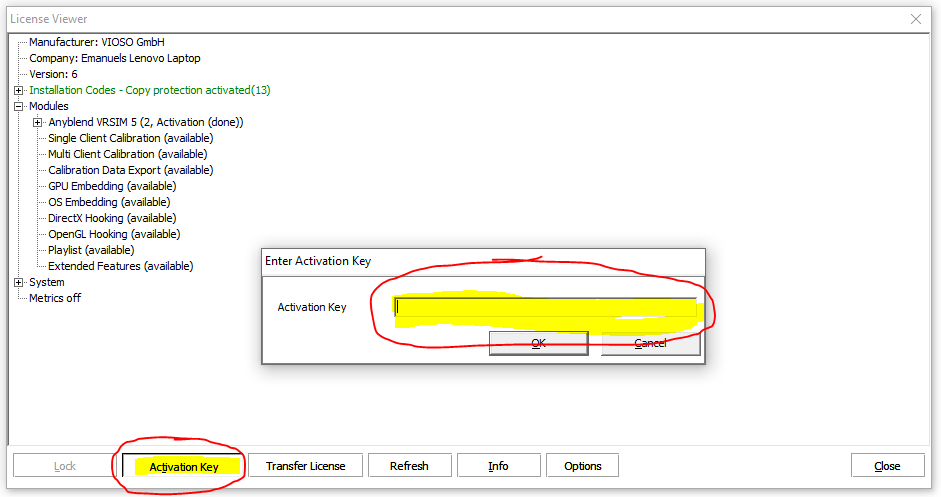 Click the button "Activation Key" and paste the key into the form field "Activation Key". Make sure you do not mistake any characters (e.g. mixing "0" and "O", or "I" and "1", etc.). We recommend using the "copy&paste" function whenever possible.
After the key is applied, you get feedback stating that the key was applied successfully, or that something went wrong.
If something went wrong and you need to contact our support, please add a screenshot of the error message.
Otherwise our support cannot help quickly ("something went wrong, help required" is not sufficient to solve problems).