If you want to test VIOSO 6 or EXAPLAY, a demo license is required. It's easy to create one.
Option 1: Request License at Download
To get the latest version of VIOSO 6 and EXAPLAY, please visit https://vioso.com/demo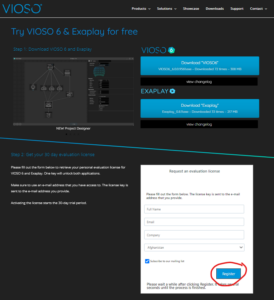 Download one or both installer and fill the form below to receive a demo license.
Note:
Both VIOSO 6 and EXAPLAY use the same license. You get one key that activates both software products at the same time.
The demo license is sent to you via e-mail after a few seconds, so make sure to enter an e-mail address that you can access.
Option 2: Request License at first run
If you already have downloaded the software product, you can create a demo license on the fly. Click "Create Demo License" and fill the form with valid data. Click on "Register" and a demo license is created for this particular PC.