Need information about the activation or maintenance status of a license? Or retrieve a license key? For both task you can use our License Self-Help webpage.
Within VIOSO 6 and EXAPLAY
Retrieve your activation key
In the software, launch the Licence Wizard and click "Activate your license", followed by "Activate online" (regardless if the PC is online or not).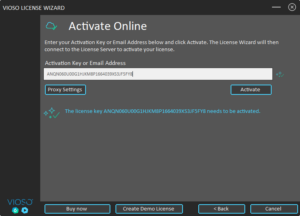 The activation key is displayed in the form field. Retrieve it via copy & paste for any subsequent task.
Retrieve License information
To retrieve License information, use the License Wizard: Learn here how to access the License Wizard.
In the software, launch the the License Wizard and click the Icon: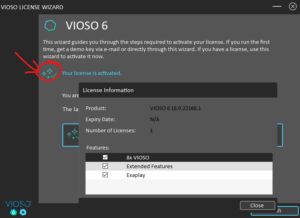 The license information contain: Version & Features.
Features:
X * VIOSO: Amount of channels that are avaliable for calibration
SIM/Extended Features: License provides extended features like multicamera, more exports, etc.
EXAPLAY: License enables EXAPLAY
To find out the status of the maintenance, please us the Online-Ressources as described below.
Online
Visit our License Self-Help website: https://vioso.com/license-self-help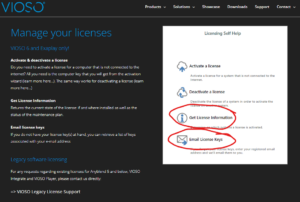 "Get License Information" provided information about:

product version
license model (permanent or trial)
number of licenses (number of PCs that can be activated at the same time)
maintenenace validity: date of maintenance expiry

"E-Mail License Keys":

Returns a list of all licenses that are associated with your e-mail address.
This includes also trial licenses that are not expired.