If you are using the "Flat" or "Arbitary" mode you have to inspect the calibration.
After every scan of a projector a Testpattern is displayed, that you can check the result.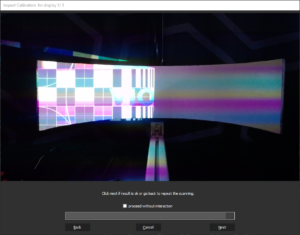 If the Testpattern is showing missing Parts or weird deformations, you have to go back and start a new scan after improving the conditions by
getting better pre-conditions
improve camera settings
adjust the Dotsize
tune the threshhold
If you are using the Mode for domes or curved screens you will get an other window after the calibration procedure with more options.