The integrated Player
The integrated player serves as a source for your own test images when editing the calibration.
However, it can also be used for simple tasks such as fixed installations.
The automatic start after a system start and the direct playback of a ready-made playlist are possible
The access to the player is located in edit mode. Pressing the player button opens the player window.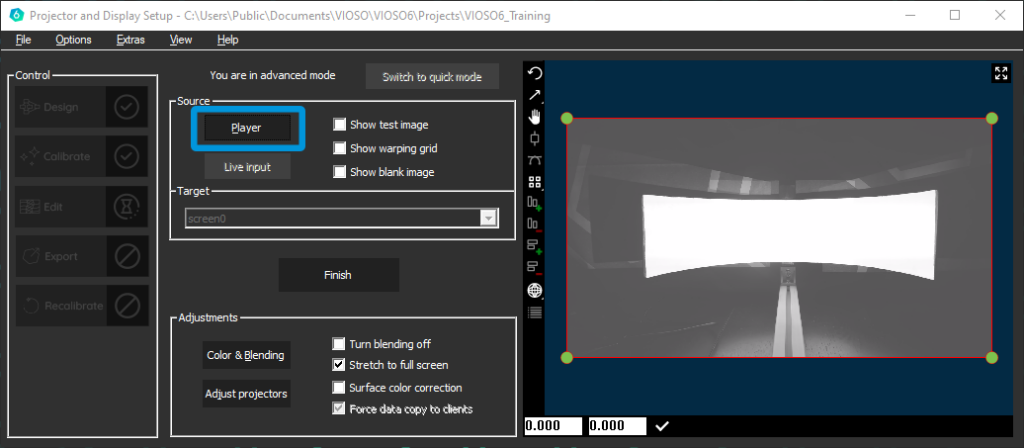 You can find a detailed description of the usage of the Player here:

Automatic Playout
If the player should be loaded automatically after a system start and the output of the playlist should start, a few things have to be set
In both modes the calibration must be loaded automatically. The procedure in the two modes differs as follows
Projectmode Setup
In the project mode, the selection of the future use must be started at the beginning of the creation of a project.
Therefore, the corresponding purpose must be selected here.

Next, the node for automatic activation must be configured in the designer.
A tick must be set in the "apply on startup" field so that the calibration is automatically loaded and activated

Find detailed informations in the Designer description here:
The Auto Play Checkbox has to be checked, to autostart the Playback after a reboot

Quickmode Setup
Use in Quickmode is almost unchanged from the previous version. The autostart of the calibration must be activated in the file menu

Autostart of VIOSO6
If the player is to be used automaticaly after starting Windows, the calibrator must be started automatically.
It is advisable to use the Windows autostart folder for this purpose. In this case, a link to the "SPCalibrator64.exe" file must be placed in the autostart folder.
Usual location of the file:
"C:\Program Files\VIOSO6\SPCalibrator64.exe"
Autostartfolder:
"C:\Users\*YourUserName*\AppData\Roaming\Microsoft\Windows\Start Menu\Programs\Startup\Start_SPCalibrator.lnk"