The software Pixera is the latest branch of media server softwares from the Austrian company AV Stumpfl. VIOSO has a history partnering with AV Stumpfl for many years, so it is natural that Pixera comes with a tight integration of VIOSO's autoalignment technology. Learn more about Pixera on our website and on AV Stumpfl's website.

There are basically two ways of integration: fully integrated calibration or stand alone calibration with calibration file transfer.
Fully Integrated calibration: "Pixera Autocal"
In this mode, everything regarding screen setup, device management and calibration file processing is handled by Pixera . It utilized a special build of VIOSO Integrate that is bundled with Pixera . It's called "Pixera Autocal" and is part of the PIXERA installer, thus available for every installation. While in demo mode, all calibrated results will show a watermark. To have the full functionality unlocked, a license for Pixera Autocal is required, which need to be acquired directly from AV Stumpfl.
Please note, that VIOSO does not sell Pixera Autocal licenses.
The advantage of this tight integrations is a continuous workflow. An operator does not need to "leave" the Pixera environment, all parameters regarding screens, projectors, devices, etc. are automatically shared and transferred with Pixera Autocal, as well as the final result for the output processing. It found in the screen properties within the Mapping tab: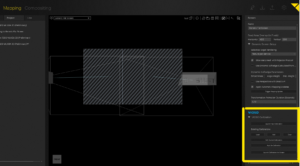 There is a very comprehensive video tutorial, showing the workflow of handling a stage setup within Pixera and using Pixera Autocal for generating a panoramic softedge projection. See the video here: