When a calibration is made using 3D modeling and custom content space conversion via 3D alignment (MRD adjustment), the blending can be recalculated using this data. Usually it allows for significant improvements to the blending quality.
To do this, the following is required:
A finished calibration with 3D data, which means the calibration was performed with the custom content space conversion.
Or
The calibration was performed fish eye to panorama cylinder conversion (old versions).
Or
The calibration was performed with a fish eye to dome conversion.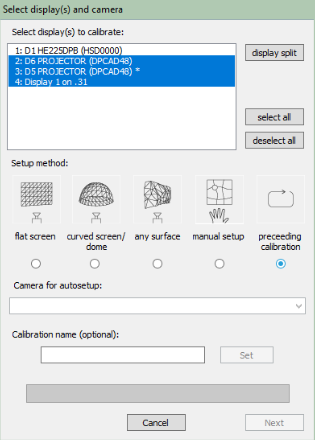 In order to re-calculate the blending, follow these steps:
Step 1- Click "Calibrate".
Step 2- Check that all projectors are selected.
Step 3- Select the option "Proceeding calibration".
Step 4- Give a name to your new re-blended compound in the "Calibration name field".
Step 5- Click 'Next'.
Finally, choose the projector layout. Note that now you are free to choose horizontal strip, as we are not calculating from the fish-eye camera perspective, but on the 3D model texture.